Schweitzer Mountain, Idaho, USA
General Feel.
Schweitzer Mountain is an up and coming resort. Last year it was ranked in the top 25 resorts of North America. With 2900 lift accessible acres, it's big. It's one of the places that have it all – chutes, cruisers, trees, bowls, bumps, backcountry, powder. This place rocks. And the views are some of the best of any resort out there. At the northern tip of Idaho you can see three different mountain ranges, Canada, and three different US states – plus a view of Sandpoint and its massive Lake Pend Oreille.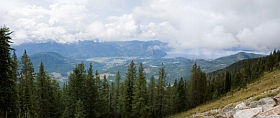 Schweitzer's village is set at the base of the mountain and has plenty of places to stay, but you can also stay in nearby beautiful Sandpoint.

Quick Fact.
Season: Early December to April
Tickets: $59 (Full Day Adult) 2009
Night Skiing: Yes
Tree Skiing: 1200 acres
Snow Making: 47 acres
Average Snowfall: 300 inches 7.62m
Acres: 2900 acres
Runs: 92 trails, plus bowls
Longest Trail: 1.7 miles-2.7km, Little Blue Ridge Run
Lifts: 10
Vertical: 2400 ft / 731m
Elevation: Base – 4000 ft-1219m / Summit – 6400 ft 1950m
Terrain Parks - 2
Terrain
Beginner – 20%
Intermediate – 40%
Expert – 40%
Tips.
Night skiing is a great way to maximize your time on the slopes on Friday and Saturday nights.
Visit Selkirk Powder Company for at least a day of cat skiing in thousands of untracked acres.
The Schweitzer Mountain Adventure Center is the place to go if you need a day off of your skis.
Don't tell everyone how awesome this place is right away, wait for them to discover it on their own so we have Schweitzer to ourselves for a while longer.
Every Sunday 1/2 day lift tickets are $20.
Fill up more than 10 gallons at the local Shell gas stations (in 2009) and you'll get a voucher for a free lift ticket when you buy one at full price
Off Piste.
Schweitzer Mountain is an absolutely awesome place to ski. It's not a big name destination yet, but it will be. No place this incredible will stay secret for too long. If you're exploring the Schweitzer Mountain, you really can't go wrong. It seems like good skiing is just about everywhere you look. It all depends on what you want. In the morning take a few warm up runs on the Basin Express chair. Then head up the Lakeview chair and ski anything on the South Ridge – the South Bowl Chutes are tops, so is Jack's dream.

Also you can't miss the Outback Bowl at the top of the Great Escape Quad. This is some truly sweet skiing right off the lift. You could probably make laps on the Snow Ghost chair all season. Lakeside Chutes, Australia, Whiplash, Pucci's Chute, Wayne's Woods, Siberia and then repeat. Your vacation will be complete!

There is plenty of skiing. But Schweitzer boasts that it has over 1200 acres of tree skiing so be sure to get off piste and explore the forest.
Family Rating.
Schweitzer Mountain is a top-notch family resort. It has great skiing for everyone, any mountain as big as Schweitzer should. But it also has done a great job of adding non-skiing adventures to the resort.

You can race in inner tubes at Hermit's Hollow Tubing Center. Visit the Solstice Center to do yoga, massage therapy, or Pilates. Enjoy a free after skiing movie at the Selkirk Theatre. Or paint your own pottery at Potter In Motion.

Something else that is super unique is called geocaching, which is like treasure hunting with a GPS. You can rent a GPS at the Activity Center and explore the mountain looking for hidden treasure.
Food and Restaurants.
Start the day out right with an espresso and a sweet at the Mojo Coyote Café or Cabinet Mountain Café. After some skiing, cruise by Sam's Alley or Thor's for a slice of pizza. Or eat in the back bowls at the Outback Inn near the Stella chair. The Chimney Rock Grill is a nice place too if you enjoy fireplaces, lounge seating, fine wine, and high quality food.

Bars The best place for happy hour is Pucci's Pub. Stay up late enjoying the nightlife at Taps Lounge. If you stay in Sandpoint, 11 miles away, you'll be overwhelmed with bars and nightlife. Try the Outlaw Bar, Beach House Bar and Grill, or Three Glasses – all offer different experiences.



From Schweitzer Mountain, back to adventures on skis page