Ski Telluride,Colorado


General Feel
A great mountain and a great town in southwestern Colorado. Ski Telluride! It is very isolated, but has it's own airport that sits on a mesa just outside of town – making it a purely destination resort. When you go, you have to decide if you want to stay in the town or the resort. The two are on opposite sites of the mountain, instead of being one and the same like most resorts – something the locals enjoy.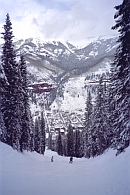 The town is set in a box canyon with steep mountains and cliffs rising on three of four sides. The scenery (and the resort) is world class. Telluride offers high-end film festivals and famous bluegrass festivals throughout the year. Besides mining, the outdoors and tourism are the biggest focus of the residents.


Telluride was built on old mining claims, and some miners didn't want to sell their stake. So those miners built ridiculously expensive homes on the mountain. As you ski Telluride mountains, along the ridge, you'll see some incredible homes nestled into the runs. Anywhere in the Telluride area are expensive second homes of the rich and famous. Everything in Telluride is high class and expensive. Skiing Magazine ranked Telluride #7 Overall in there Reader's Choice Awards.



Ski Telluride Facts
Season: November to April
Average Snowfall: 309 inches/ 7.8m
Acres: 1700 acres
Runs: 86
Lifts: 16
Lift Capacity: 21,186 skiers per hour
Vertical: 3,530 ft / 1075m
Elevation: Base – 8.750 ft =2667m / Summit 12,255 ft=3735m
Terrain
Beginner – 24%
Intermediate – 38%
Expert – 38%
Tips
The Gondola system is free from Mountain Village to Town.
There are no Weekend Warriors, so the resort is never too crowded.
Terrain/Off Piste
When you Ski Telluride, just be mindful it is a steep mountain. It has great terrain – steeps, moguls, groomers, glades and any combination of those. It would take several seasons to ski all of Telluride.



The backcountry is huge in the San Juan Mountains, Telluride's home range. Guides are available for backcountry ski tours or you can go on your own. There are gates on the mountains that allow people to access hikable terrain – one near Gold Hill enters the Bear Creek Access and one near Bald Mountain accesses the Alta area. From here you can ski some classic backcountry areas like Graveyard, E-Ticket, or Delta Bowl. Use the gates because skiing under a rope is illegal and strictly enforced.



If you don't have avalanche training, stay inbounds. There is plenty of challenging terrain for you to ski. Telluride's Palmyra Peak is a huge area of hike-to terrain that is avalanche controlled and is claimed to be "Unmatched in North America." It's pretty amazing.



There is other great stuff inbounds too, where you don't have to hike. Buzz's Glade, Andy's Gold, Millions, and Happy Thoughts are all challenging steep runs. It's rumored that some self-proclaimed "expert skiers" have been seen hiking down parts of the mountain. Also be sure to check out Holy Cow. East and West Drain are a must too.


Family Rating
As a destination resort, Telluride is tops for families. The town and the resort have wonderful shopping, restaurants, and plenty of things to do besides ski. The children's ski school is one of the best and this is partly because Telluride has some incredible teaching terrain that starts at a very simple level and works its way up slowly. There is also a "base camp" for kids all day everyday.



Take a day and learn about Telluride's colorful history. Learn to snowshoe. Go see the sights on a snowmobile. Take a few hours to ice skate. Watch a movie at the theater. You and your whole family can stay busy every day and night you're in Telluride.



Bars
Telluride has a great bar scene. The West End Tavern has won awards for being Telluride's Best Bar. Voir Bar has an elite, posh nightlife club. The Last Dollar Saloon is a classic dive bar. Live music can be heard at Fly Me To The Moon Saloon. There are lots of others to choose from too, it all depends on the bar scene you feel most comfortable in.



Food
Telluride's culinary scene is deliciously fantastic. On the mountain are the typical on mountain restaurants with burgers, chili, salads, and candy bars. In town are lots of restaurants. 9545 Restaurant is fine dining on the mountain at 9545 feet above sea level. Harmon's has a great selection of wine to serve with your dinner. Alfred's offers beautiful views of the mountain. Rustico has authentic Italian food. The Blue Point Grill has wonderful steaks and seafood. There are lots of options on and off mountain to satisfy your taste buds.






Disclosure
Compiled by Mr DL, a skier of course. Have fun when you ski Telluride!


From Ski Telluride Colorado back to adventures on skis page