Alyeska Ski Adventure ,Alaska
General Feel
This Alyeska Ski expedition is a gem of a memory. Alaska as you know is off the beaten path and therefore does not attract the attention that other big resorts do. Alyeska lies where the ocean meets the Chugach, the mountains of heli-skiing fame. Alyeska is located in Girdwood, Alaska, a small skiing community about a forty-five minute drive from the Alaskan metropolis of Anchorage.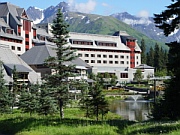 Since 1954, Alyeska has been Alaska's biggest ski resort. Catering mainly to local Girdwoodians and Alaskans, there is still a good bit of tourism in the area. This is due to high rankings in Skiing Magazine in the last decade. Since 2000, Alyeska has been voted #1 for snow, #6 for steeps, and #19 for North America's Top Resorts. In 2008, Alyeska hosted Telepalooza, a huge telemark competition and festival.
The Alyeska Ski resort is Alaska at its finest. You may come spend the winter and decide not to leave. The winters are fantastic, and the summers leave nothing to complain about.




Quick Facts
Season: Mid November to April
Average Snowfall: 631 in at mid-mountain, 742 at summit
Acres: 1,400 acres
Runs: 68
Lifts: 9
Lift Capacity: 10,335 skiers/hour
Vertical: 2,500 ft.
Elevation: 3,939 ft.
Terrain;
Beginner – 11%
Intermediate – 52%
Expert – 37%
Tips
Beware of dark days and wet snow. Nights in Alaska last longer than most places so many lifts are lighted. The snow is often wet and heavy due to Alyeska's close proximity to the ocean, but with as much snow as Alyeska gets each year, there is also plenty of powder.

A new owner who plans on investing money in the resort and community recently purchased Alyeska. The future looks bright, and so does your next Alyeska Ski Adventure. The mountain and community improvements include everything from on mountain to area schools. It's best to visit Alyeska in the spring to benefit from longer daylight hours.



Terrain/Off Piste
Alyeska is a challenging mountain to say the least. The tram will take you from the base to the top in under 5 minutes. From there you can ski giant bowls, steep chutes, or simple groomers. There are two World Class certified downhill courses. The mountain does have terrain that is suitable for all ability levels. The runs under the tram, like North Face, are epic. Also be sure to check out Christmas Chute and Headwall. There is plenty of steep double diamond terrain to be skied. If somehow you get bored with the resort, the Chugach is home to some of the world's best helicopter skiing.



Family Rating
Families are welcome in the Alyeska Ski Resort. The small town of Girdwood is charming. The area has plenty of other things to do, besides skiing. Dog sledding, tubing, ocean cruises, and snowshoeing are all activities that are close by which the whole family will enjoy. An aerial tramway allows foot passengers to the top of the mountain to see the views of surrounding glaciers and endless mountains. During spring break, the mountain even offers ski camps designed specifically for kids.

The Alyeska Prince Hotel is a high-class ski in ski out hotel. They will even call your family in the middle of the night when the Northern Lights are high in the sky, a sight unique to upper latitudes. Other places to stay are the Alyeska Hostel or one of many bed and breakfasts.



Bars
If you're craving a beer after a long day of hitting the slopes, check out the Aurora Bar and Lounge, the Sitzmark Bar and Grill, or Max's Mountain Bar and Grill. All can serve you up a beer and probably an entertaining conversation.



Food
There are plenty of restaurants to choose from at Alyeska and Girdwood. Try the Bakeshop for cheap delicious meals and baked goods. Chair 5 caters to a local crowd. The Double Musky Inn has been called one of Alaska's best restaurants. Aloha Alaska will serve up your daily dose of caffeine.


Disclosure
Compiled by Mr DL, a skier of course.


From Alyeska Ski Adventure back to our adventures on skis page.