Arapahoe Basin Colorado
General Feel
For 62 years, Arapahoe Basin, Colorado has been called "The Legend," and with good reason. Its terrain, attitude, views, and everything else about the resort are legendary. The atmosphere is fun and exciting – a little bit of a hippy scene. Skiers at Arapahoe Basin love to ski and they love to have fun. Don't be surprised if you see people ski in shorts, Hawaiian shirts, or funny wigs – it's part of the A-Basin experience. A-Basin has a reputation for challenging, technical skiing and in 2008 they opened Montezuma bowl, which expands their terrain by 80%.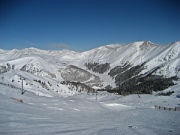 Quick Facts
Season: October to Mid-June
Average Snowfall: 367 in/ 9.3m
Acres: 900 acres
Runs: 105
Lifts: 7
Longest Run: 1.5 miles/ 2.4km
Vertical: 2,257 ft=687m
Elevation: Base – 10,780 ft=3285m / Summit – 13,050 ft=3977m
Terrain
Beginner – 15%
Intermediate – 45%
Expert – 40
Tips
Get to the mountain early to ensure a good parking spot.
Be ready to party in the parking lot – bring an extra layer if it's cold.
Terrain may be closed for avalanche danger.
If coming from Denver, drive over Loveland Pass to avoid the tunnel and extra skier traffic.
Telemark skiers are welcomed with open arms.
Lifts are slow, and skiers at A-Basin like that.
Arapahoe Basin is right on the Continental Divide, which means beautiful scenery, but also possible altitude sickness if you're not used to the elevation.
Bring goggles for flat light. Most of the resort is above tree line.
Terrain/Off Piste
Arapahoe Basin's terrain is some of the best around. The resort may be small, but it has anything and everything you want to ski – glades, bowls, chutes, cornices, cliffs, moguls, and backcountry.



If you're planning on staying inbounds, you'll be able to challenge yourself all day long. The Pallavicini Lift is a mogul lovers favorite destination. It has long steep open mogul runs or cliff drops through nicely spaced glades. You can drop out of bounds and ski some very technical lines down to the road, if you want to hitch back to the resort.



From the summit, you have to hike the East Wall. The East Wall has some of the best skiing around. Run's like North Pole, Corner Chute, or Willie's Wide are classic avalanche chutes that will have you dreaming of more, then they open up into wide open bowls so you can do it all over again.



On the backside, there is the newly opened Montezuma Bowl. This used to be a backcountry paradise, but has been incorporated into the resort. Now it offers some nice long groomed blue runs, like Columbine and Larkspur. But it also offers some steep technical skiing like Elephant Trunk, Crags, Jump, and Durrance.



The backcountry near the resort is top-notch. If you only wanted to ski what you could see from A-Basin's peak, you could ski a new line everyday for years. Unfortunately, Colorado's snow pack is highly unstable, be careful.
Family Rating
Arapahoe Basin's terrain is not known for being very family friendly, but it is – at least from a skiing perspective. The Molly Hogan lift is a gentle easy place to learn, especially if you don't want the crowds. There are plenty of easy greens and blue groomers to practice on. On a typical day you'll see at least one or two Dad's teaching their kids how to ski.



Other than skiing, Arapahoe Basin really has nothing for families – or anybody else for that matter. It's a ski resort with nothing else around. If you stay in Keystone or anywhere else in Summit County there are plenty of activities for everyone to enjoy.
Bars
Arapahoe Basin is at the top of an isolated canyon. The only buildings around are owned by Arapahoe Basin – a lodge, a ski patrol hut, and a storage shed or two. But in that base lodge A-Basin made sure there was a bar called the 6th Alley Bar, for the skiers.



The real party at A-Basin is in the parking lot, which is typically referred to as the "The Beach." The Beach is a free parking lot right at the base for skiers and literally a stone's throw from 3 different lifts. It also is home to possibly some of the rowdiest ski parties around. Sections can be reserved for grilling out and partying. Often on weekends, you can wander the parking lot to meet friends and count how many kegs are tapped.
Food
As there isn't much at A-Basin, the food options are limited. The base lodge has typical ski resort food. There are a few places to grab a cup of coffee, which is nice in case you slept in the parking lot – that's not too uncommon. The newer Black Mountain Lodge sits at mid mountain and has delicious food like chili, salmon, and BBQ. For a real meal, closer to where you'll stay, drive down the road to Keystone or Dillon and there you can have a steak at Pug Ryan's, a burger at Wendy's or Ruby Tuesdays, or make your own sandwich at the grocery store.






Disclosure
Compiled exclusively for us by Mr DL, a skier of course.


From Arapahoe Basin back to adventures on skis page