El Arpa Adventure,Los Andes,Chile



General Feel
Your El Arpa Adventure will give you epic ski dreams for life. El Arpa is Chile's only snowcat serviced resort. It is set in two pristine valleys in the Andes Mountains of Chile, located about 100 km from Santiago or about a half hour from Los Andes, which is the way you travel to fabled Portillo. From the peak of El Arpa is one of the world's most incredible views. Aconcagua, South America's highest peak, towers over the resort. In the other direction the fertile valleys of Chile spread east and on a clear day the Pacific Ocean can be seen in the far distance.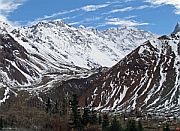 Quick Facts from El Arpa Adventure
Average Snowfall: Up to 5 meters
Acres: 4,000+ acres
Runs: 15 named runs
Lifts: 0 – Snowcats and Backcountry Access Only
Vertical: 3,000
Elevation: 12,500
Terrain
Beginner – 0%
Intermediate – 20%
Expert – 80%
My El Arpa Adventure is in fact the dream of Toni Sponar, life long ski bum. Toni is an Aspen Ski Instructor during the North American winter and owns and operates El Arpa the rest of the year. He is an eccentric Austrian. Be sure to take a run with him.

Arpa has two snowcats and no lifts to cater to its 4,000 plus acres. With only snowcats, the mountain is relatively uncrowded. In fact, the average day at El Arpa has less than 25 skiers for over 4,000 acres…you can only imagine. El Arpa means "the harp" in Spanish. While you're there, listen for the wind to blow through the valley. It sounds like a harp. No lines, steep terrain, untouched snow, and natural music… El Arpa is truly a skier's paradise.


Tips
During a storm and right after a storm, El Arpa is closed to skiing. This is due to sketchy avalanche conditions. Luckily, the Andes have a maritime snowpack that settles quickly and El Arpa is up and running within a day or two. Be sure to factor this in when planning a trip here. El Arpa is a great day trip from Santiago or a great place to spend a day after skiing Portillo for a week.






Beacons, shovels, and probes are mandatory. There is no avalanche control, only qualified ski guides to show you the way. Backcountry access is cheaper than the snowcats if you want to hike or skin up the mountain on your own.


During a typical El Arpa Adventure, each skier rides in the snowcat about 4 times, or about 12,000 vertical feet, through steep, open, powdery terrain.


There is no snow making, so the season begins and ends in accordance with the snow. It's best to go in the middle of the season in late July or August.




Be sure to make an appointment because there must be at least four people a day for El Arpa to operate. If you choose to drive yourself, be sure to have 4-wheel drive.



Terrain/Off Piste
El Arpa's terrain is incredible. Imagine every single run as a powder run. It's true, with limited clientele at one of the world's most incredible places no one has to fight for their line.

The entire area is above tree line. Cliffs, rock bands, and views are in abundance. From the top be sure to look around and take in all that is Chile. In nearly every direction are lines to be skied.
Usually the guide will add to your Arpa adventure. The guides will judge the groups and take you to terrain that is both safe and with in your skiing abilities. Slopes are steep. Both the Cirque and Avalanchas are epic lines that are must skis for the expert skier.

Currently all skiing is in Valle El Arpa, but as soon as a road for the snowcat can be cut, Valle La Honda – an area about the size of Vail – will be opened.



Family Rating
El Arpa is not a family resort. It caters to intermediate and expert skiers. The terrain ranges from intermediate to expert. It's not a resort for the kids. There is no base area, only a few rustic buildings built into the mountain for avalanche protection. These buildings have a few beds for employees, a minimal rental shop, and a few snacks and drinks are available to skiers and riders.



Bars & Food
El Arpa has no food or nightlife. Occasionally a few beers are available after an epic day, but usually when the day is over people head back to Los Andes or Santiago. The best place to stay in Los Andes is Termas El Corazon, a hotel, spa, and convention center with delicious food at every meal. If you are visiting El Arpa on a day trip from Santiago, the city has everything and anything you could desire.




Disclosure

Compiled by Mr D, a skier of course. And Toni if you ever read this send us some photos.


From El Arpa Adventure, Andes, Chile, back to adventures on skis page