Copper Mountain,Colorado USA
General Feel
Copper Mountain slogan is "Where The Skiers Ski," and you know, it's true because Copper is an awesome resort for all skiers and snowboarders.


The terrain is phenomenal. It's usually sunny. It's right on I-70 for easy access to Denver International Airport; in fact it is only 2 hours from the airport on the busy highway. Copper is located at the end of 10-mile Canyon and before treacherous Vail Pass on Interstate 70. The base village is well developed and is very much a resort community. Condos, second-homes, and hotels are everywhere. There is a golf course, bike trails, ponds, medical center, and Starbucks, but Copper lacks the amenities of a real town – no grocery store or post office.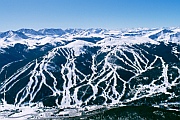 Quick Facts
Season: Mid November to April
Average Snowfall: 249 inches/ 6.3m
Acres: 2,465 acres
Runs: 125
Lifts: 21
Vertical: 2,601 ft / 792 m
Elevation: Base – 9,712 ft-2952m / / Summit 12,313 ft=3753m
Terrain;
Beginner – 21%
Intermediate – 25%
Expert – 54%
Tips
Beware of altitude sickness.
Many people stay in Frisco, the closest town, instead of directly at the Copper base.
It is often crowded on weekends and holidays, due to close proximity to Denver.
Terrain/Off Piste
Copper Mountain is a great for all abilities, but shines if you want to ski hard. There is all sorts of terrain – glades, open bowls, groomers, moguls, terrain park, half pipes, cliffs, cornices, and even some decent backcountry access.



The places you should be sure to check out are Spaulding Bowl, Upper and Lower Enchanted Forest, Resolution Bowl, Union Bowl, and Union Meadows on the Front Side. Then if you ski into Copper Bowl on the back side, there is some great steep skiing off of Tucker Mountain, like The Nacho, West Taco, The Taco, and Fremont Glades 1 thru 5. If you're looking to get the legs burning on some endless moguls try Highline, Far East or Ore Deal.



Copper Mountain offers some of the best beginner and intermediate terrain too. Most terrain near the American Flyer lift is blue or green. The Timberline Express lift takes you to some of the best intermediate runs on the mountain. When you break it down, most of the harder terrain is up high and the easier terrain is down low.



Backcountry access is offered free with Tucker Mountain Snowcat Access, which takes ticket holders to big mountain lines on top of Tucker Mountain. It is only open when Ski Patrol gives it the go ahead. It's some great skiing. From Copper Mountain you can see the top of Breckenridge and plot your lines through the SKY Chutes, a classic Summit County Colorado line. When the snow is questionable in the early or late season, Copper has the ability for snowmaking on 380 acres of terrain – making even the driest years awesome.
Family Rating
Copper is a fantastic place to take the family. There are activities for the family like tubing hills, pools, arcades, and sleigh rides. Try roasting S'mores at the Chocolate Factory. Copper offers "Kid's Night Out" or Parent's Night Out depending on how you see it, which is a kid's childcare in the evening. Kids eat free at Salsa Mountain Cantina and Tucker's Tavern. The ski school is great and Copper is one of the best places to learn how to ski.
Bars
After a hard day on the slopes, try happy hours at Pizza Carlo, Jill's Umbrella Bar, Jack's Slopeside Grill and Bar, or the Storm King Lounge. JJ's Rocky Mountain Tavern regularly has live music. Zizzo Ski Bar is great for a dance party.
Food
Copper has a wide variety of dining experiences. Dining In The Woods involves a horse drawn sleigh that takes you to a miner's tent for a delicious meal. Salsa Mountain Cantina serves authentic Mexican food. Grand Hall offers yummy breakfast. Starbucks has your favorite coffee. Endo's serves food right at the mountain's base. Chubs has salads and soups. The village offers plenty of restaurant choices.
Disclaimer
This article was submitted to us by a serious skier, Mr D L based in USA.




From Skiing Copper Mountain Colorado, back to adventures on skis page