Fernie BC , British Columbia, Canada
General Feel
Fernie bc is part of interior British Columbia's famous Powder Triangle.

The resort is climbing the ski resort ladder. It's a world-class resort that is just starting to get the respect it deserves. It's a great ski destination, and the town is starting to be more of a ski resort town. Its roots are in mining, but the tourism industry is growing.


Fernie BC is in the Southeastern Columbia, near the Alberta and US borders. It is a long day trip from the metropolis of Calgary. It doesn't get too crowded and is a great resort, with plenty of terrain to gawk at and brag about after you ski it.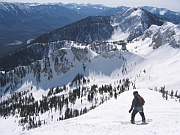 In Skiing Magazine's Reader's Picks, Fernie was ranked #5 overall. In the other rankings, Fernie was ranked #4 Trees and #5 Powder.

Quick Facts
Season: December to April
Average Snowfall: 8.75 m / 29 ft.
Acres: 2,504
Runs: 107 trails, 5 bowls, countless trees
Longest Run: 3 miles, Falling Star
Lifts: 10
Lift Capacity: 13,716 per hour
Vertical: 2816 ft
Elevation: Base – 3500 ft=1066m / Summit – 6316 ft=1925m
Terrain;
Beginner – 30%
Intermediate – 40%
Expert – 30%
Tips
The snow's water content can be high, so watch for heavy snow.
It may rain late season.
Be sure to ask a local to point you toward some good runs. Unlike some resorts, locals tend to be friendly.
Be sure to learn about the legend of The Griz.



Terrain/Off Piste
Some people have compared Fernie BC to Snowbird. Skiing Magazine has given Fernie the thumbs up on both powder and tree skiing, but Fernie is also known for it's high alpine open bowls: Siberia, Timber, Currie, Lizard, and Cedar. The bowls are awesome and vary from intermediate to expert terrain. Fernie's website claims that you can find terrain, "as steep as you want it to be," and there is certainly some steep terrain to be skied.


BC's often cloudy, snowy weather makes tree skiing great because it offers a bit more definition than the open bowls. There are approximately 720 acres of glade skiing. Be sure to ski Concussion, Anaconda Glades, and Bootleg Glades.


Fernie is part of BC's Powder Triangle, where nearly everyday is a powder day – thus its high rankings in Skiing Magazine's Powder category. Huge dumps are common and the snow can reach 10 to 14 % water content – which means it can get heavy quickly.


The entire Powder Triangle area consists of mountains in every direction, so backcountry skiing is common and is easily accessible. Heli skiing, Cat Skiing, and guided tours are located nearby – you may want to spend a day at Island Lake Lodge. The backcountry varies from mild to super extreme. If you want to stay near the mountain, try Off White Pass, Polar Peak, Fish Bowl, 2000 Ridge, 2001, or Thunder Meadows.


Inbounds there is a huge selection of sweet runs. Be sure to ski Saddle, Knot Chutes, Steep and Deep, Wally's Follies, Bear Chutes, and Gotta Go. Fernie rocks.



Family Rating
Like most ski town, Fernie BC is family-ready. They offer Kid's Night Out, which is supervised by resort staff. Horse drawn sleigh rides are an option, cross country skiing, snowmobiling, snowshoeing safaris, shopping, Nastar races, complimentary mountain tours, and dogsled tours are all available.


The terrain is great for families. The majority of terrain is greens and blues. There are whole sections, including high alpine bowls that are entirely blue and green. Fernie is a great place to learn to ski and to improve the skills you and your family already have.



Bars
Fernie BC has some great places to grab a beer. Griz Bar has been Fernie's #1 Après ski location since 1962 – beer, burgers, pool, and music can all be found there. Kelsey's Bar serves up a good selection of adult beverages. The Pub in town is a good place to watch the game, drink a beer, and play some darts.



Food
There are lots of places to eat in Fernie. Grizzly's Den is a casual restaurant in town. Lizard Creek Lodge offers high-end fine dining. Kelsey's has pasta and seafood. Slopeside has your deli sandwiches and coffee. Gabriella's Little Italy has authentic Italian. Rocky Mountain Chocolate Factory has sweets to wash it all down.


Disclosure

Compiled just for us, by Mr DL, a skier of course.


From Fernie BC back to adventures on skis page