Hotham Trail Map
You enter the Hotham trail map from the top left hand side, (squiggly line), assuming you are arriving from the closest major city.


The ski trails open up soon before you pass through a tunnel. The Summit, on the right hand side, is an excellent beginners tail, with wide open gentle slopes.The rest of the interesting skiable terrain is to the heft hand side.


Passing through the tunnel you enter the heart of the resort (undergoing 50milion dollar expansion).A lot of trails run to the left hand side of the road in the valley below.


As you follow the road of the trail map, you will find lots of cars parked along it. That's the overnight car park area. Free shuttles will whisk you back to where your accommodation is.


The coolest runs in my opinion are under the Blue Ribbon, Heavenly Valley and the Orchards Lifts.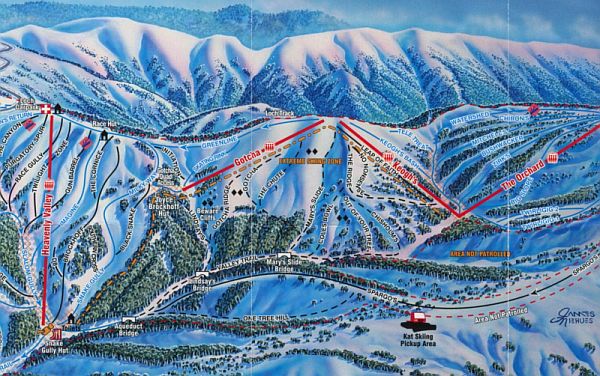 The Hotham trail map's Blue Ribbon runs are partly tree lined, particularly at the bottom section of Hogg's Back, and they are steep and moguly at the top section (which is not for the faint hearted). If the weather is good check this run out, as it gets good sun exposure. Unfortunately if ski conditions are marginal, this part of the Hotham trail is the first to melt down.


The Heavenly runs, are excellent for intermediate and advanced skiing, but I would suggest visit these trails in the morning, as all skiers funnel down to the Slalom Gully and it gets a bit worn out and moguly, as well as busy.



For solitude skiing, runs under the Orchard are great.


To challenge the senses go across the valley to the Spargos, One Tree Hill, and the Golden Point areas. This is the bottom of your Hotham trail map (page1). This is good fresh powder country. Just be advised the terrain is not groomed, nor is it patrolled. Cross country skiers can head this way, then ski two mountain peaks (overnight trip) towards bottom right hand side of the trail map, and you'll make it to the adjacent Falls Creek resort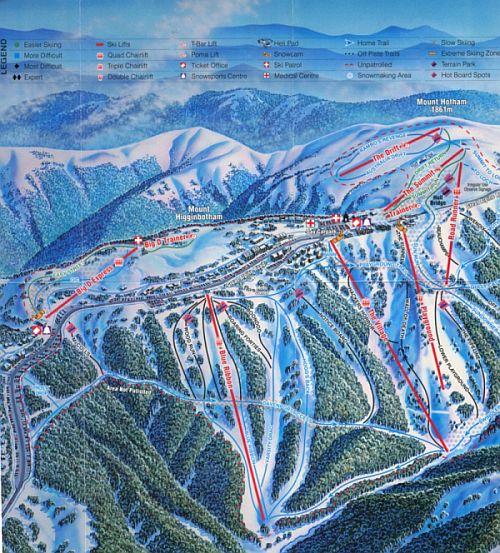 For half pipes and jumps within the resort, visit the runs under the Road Runner, or the Summit lift.


Beginners I would advise to go to Big D, left of Hotham trail map (page2).The Summit is also a good alternative. If the weather is borderline you will be more content on Big D, as the mid to bottom section is shielded by trees.



Have fun studying this Hotham trail map, and enjoy your stay.