hydration pack for your back
The hydration packs available for skiers consist of either plastic or rubber inserts called the bladder. This bladder acts like a water reservoir holding up to 3 litres of water. The added feature is that the bladder has a hose running to a mouth piece. So in an almost hands free fashion you can drink water whilst you stay braced to your skis.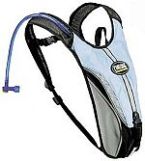 The recent enhancements these hydration packs have encountered are, bladders with larger zip up openings, for the ease of cleaning. The problems initially encountered were that stagnant water did after some time become contaminated. If the pack was not cleaned properly, bugs trapped in the bladder could start up a little party and that was not good for us, right, especially if exhausted and dehydrated. As a skier you could easily become ill from drinking the water that was meant to re-hydrate you.





What the manufacturers have also introduced to make hydration packs safer to use are bladder inserts which have anti-bacterial treatments. The plastic insert itself is treated. They have done this to combat the problem of hydration pack bladder contamination. This feature is now the standard accepted norm.



Design.
Thinking which design may be best suited for you? There are two types available;




1/ One with a naked bladder insert, which can be adapted to a lot of back packs. This variety gives you choices, as you can pack other survival ski accessories into the same pack. The manufacturers of hydration packs do provide multiple function back packs, their main benefit being the water hose connecting to the mouth piece can be fed through the shoulder strap. In this arrangement the tubing does not dangle much, and is easier to reach.


2/ The other variety of a design is a purpose build backpack for the hydrating bladder only. These are often shaped like a bone, and follow your spine.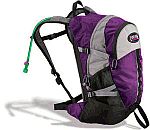 Filling the Back Pack.
The most forgiving liquids to carry are water and clear fluid electrolyte supplements. Fluids containing colored additives may stain the bladder. Some cordials may discolor the bladder to the extent that you will not be able to see what is inside.




Cleaning .
Try to avoid using chemicals with strong disinfectants as they may damage the bladder. Chlorinated water (tap water in most countries) rinses, followed by drying of the open bag in the sun, are a sufficient form of dis-infection in the vast majority of cases. Rinse the mouthpiece and the tubing equally well.


Anchors.
There are few choices available to assist with attachment points of the mouthpieces to shoulder straps. This set up aids with holding the mouthpiece close by when you need it most. It also helps you stay untangled with other bits of equipment dangling close by.




When selecting back hydration packs consider looking for a ;
back pack made out of waterproof fabric to insert the hydration system into

insulated bladder insert to resist freezing whilst skiing

bladder with a large opening for ease of cleaning

mouth piece with a hose for ease of drinking

mouth valve

mouth piece anchors

if you don't have any scrubing brushes can be entertained

Suppliers of back - hydration packs:
CamelBak .
These manufacturers have recently acquired the Platypus range.If
CamelBak Hydration Pack
interests you visit this link.


Novara Breeze Range.



Kelty Range.



Platypus.



Nalgene.



Dromedary.



Hope this article on hydration back packs is of help when venturing out on your next ski journey.