Las Lenas Argentina


General Feel
Las Lenas Argentina is a fresh experience. This resort opened in 1983 and has been a world-class destination since then. It is very isolated on the Eastern side of the Andes Mountains. And it is huge. Imagine Vail and Snowbird combined. From the top of Las Lenas, looking west, there are mountains as far as the eye can see. They all stretch far into Chile and they are uninhabited.

There is a very international feel at Las Lenas Argentina. It attracts skiers and riders from around the world. This also means that you'll hear a smattering of different languages.

The area around Las Lenas has a very resort feel to it. Shopping, restaurants, and hotels are in abundance. There is no real town feeling. Be sure you have a reservation before you just show up because the resort is often full, especially during Argentinean holidays.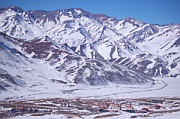 Quick Facts, Las Lenas Argentina
Season: June 15 to October 15
Average Snowfall: 250 inches/ 6.4m
Average Temperature: 40 F
Acres: 556,000 acres / 7,600 off piste terrain
Lifts: 12 (7 chairs, 5 surface)
Vertical: 3,904 ft / 1189 m
Elevation: 11,253 ft / 3430 m
Terrain;
Beginner – 5%
Intermediate – 30%
Expert – 65%
Tips
The weather can really throw you for a loop. Beware of strong winds, heavy snow, fog, variable conditions, and quickly changing weather. The weather often closes the resorts off piste terrain. If it does, the groomed runs and Terrain Park will remain open. Las Lenas is a first-class resort at Argentinian prices. Lift tickets cost around $25 ( 2008) a day. Don't get lost or get in over you head. To put it simply and honestly, you may not be found for years.




Terrain/Off Piste
If you are looking for some of the best terrain in the world, go to Las Lenas Argentina! Las Lenas offers more extreme terrain than anywhere else. You can ski here for years and still get lost. It is never-ending. It is highly recommended to ski with a guide who knows the mountain. Also be sure to have the proper avalanche gear if you venture into the extreme terrain.

Your ski experience in Las Lenas Argentina may be interesting to say the least. Venturing off of the groomed runs is a must. In order to do this, you must sign a waiver and give your passport number to a guard at the gate. In return he gives you a bracelet that permits you to ski off piste as much as you want. You feel as if you are signing away your life, but in reality it is so they can charge you a rescue fee if necessary.

High winds and blizzards are common in this region. So the weather does strange things to the snow. Be prepared for thick wind crusts and avalanche prone terrain. In fact there are plenty of pitches that hit 45 degrees plus.

Some of the classic ski runs are Marte, a long run under the main lift that is long, steep, narrow, and rocky. Don't fall. Paradiso is a long run off piste that takes you around the backside of the mountain. Eduardos is a steep rocky chute on the front side. El Collar is a rocky cliff band and open bowl that you'll want to ski from the minute you see it. As far as you can see in every direction is skiable terrain. You might have to hike to it. But you'll earn some of the best turns of your life.




Family Rating
Families are welcome at Las Lenas and there is plenty to do. The resort is known for the off piste terrain, but there are runs for all abilities, even the beginner kid level. Lessons are cheap and many of the instructors speak English fluently. Las Lenas offers kid's ski clubs too. Besides skiing there is plenty of shopping to be done. Internet cafes are easy to find if you want to email people about your sweet ski day. There is also a museum that teaches about the region.




Bars
The nightlife in Las Lenas is superb and goes late into the night. After a big night out, the skiing often doesn't start again until late morning. Las Lenas is very isolated so the only things to do are eat, drink, and ski. There are bars for everyone. Wine Bar in the Atenas Hotel serves world-class Argentinean wine. UFO, at the base of the mountain, serves snacks all days and live DJs play music with light shows all night. The Casino Bar is a great place to gamble before you hit the town.




Food
Anything you want to eat is available in Las Lenas. Escorpio has French and Mediterranean food, Il Legno serves Italian. Innsbruck has burgers and fries. Ellura offers incredible views. El Rufugio is known for fondue. And this only is the beginning of the restaurants in Las Lenas.






Disclosure

I hope you enjoy your Las Lenas Argentina,Ski Experience, as we enjoyed bringing it to you. Compiled by DL, a skier of course.


From Las Lenas Argentina Ski Experience.