Okemo Mountain, Vermont, USA
General Feel.
As the advertising says, Okemo Mountain is the place to find your Tempo. It's also a place where ski culture meshes beautifully with guest service. In fact, the ski resort owner, Diane Mueller, trains every Okemo employee. It's pretty cool to be trained by the owner; it sets up a tight little, happy ski community. And it shows because every employee is stoked to be a part of Okemo.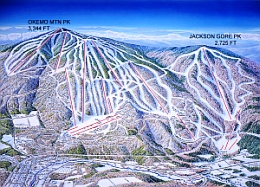 Since 1952, the Okemo Mountain has prided itself on being a place where you can be yourself and find yourself year after year. And that is why Okemo is ranked the #8 best resort in the East. It wants skiing to be fun and isn't that why we all ski?
Quick Facts.
Season: Early November to Late April
Ticket Price: $74 for Full Day Adult Weekend, 2009
Night Skiing: No
Average Snowfall: 200 inches / 5.08m
Acres: 632 acres
Runs: 119
Tree Skiing: Yes
Longest Trail: 4.5 miles/ 7.2km Mountain Road
Lifts: 18
Vertical Drop: 2,200 ft / 670m
Elevation: Base – 1,144 ft-348m / Summit – 3,344ft/ 1019m
Snowmaking: 96%, 605 acres
Terrain Parks: 6
Terrain
Beginner – 32%
Intermediate – 38%
Expert – 30%






































Tips.
Both Salomon and Atomic have Demo Centers at Okemo so you can try the hottest new skis.
Photographers are located all over Okemo to capture your skiing memories.
The Superpipe at Okemo measures 500 feet long ( 152m) by 17 feet high (5.18m), or you can try one of the other parks. Okemo is #2 best pipes and #4 best parks in the East.
Okemo is a great place to learn Nordic skiing or go on a snowshoeing hike.
Located 3 hours from Boston, 4.75 from NYC, 2 from Burlington, and 3.5 from Providence, RI, Okemo can get pretty busy on the weekends. It might be best to avoid some crowds and come during the week.
During the middle of the week, the first 60 minutes of skiing are free so that you see if you want to pay for the conditions before you put down your hard earned dollars for a lift ticket.
Off Piste.
When the lifts open at 8 am on weekends, head toward Jackson Gore. Jackson Gore Peak is home to long bump runs like White Lightning, Big Bang, Vortex, or Quantum Leap. It also has some sweet double diamond gladed runs like Black Hole and Supernova.



As you make your way toward Okemo Peak in the afternoon, you can take some easy groomers or intermediate bump runs. But your next destination is the South Face Express Quad, where you can open up on long blues or weave through the trees off of Rimrock.



Okemo Mountain also has awesome terrain parks for all abilities.



Family Rating.
Okemo Mountain is one of the best places in all of Vermont to go skiing with the family. They have the usual stuff like tubing hills, snowplay areas, and ice skating. But what really lures people to the Okemo Mountain is award-winning children's programs which include free skiing for children 6 and under. Plus they have free learn to ski programs for families, 5 free beginner lifts, free lodging for kids 12 and under, a day and evening care center, special ski school for kids as young as 2 years old, and an awesome ski school for the older kids. You can also check out the fitness and aquatic center for an after skiing adventure.



Food and Restaurants.
Okemo is home to more than a handful of awesome restaurants. Jump is the spot for Asian cuisine. Summit Lodge serves up great sandwiches. Vermont Pizza Company cooks a mean pizza pie. Waffle Cabin serves Belgian sugar waffles from 9:30 to 3:30. The Sugar House Lodge is the place for snacks, salads, and soups. If you want to spice it up, meaning you can't wear your ski boots and helmet to dinner, try Coleman Brook Tavern or Siena.



Bars.
You'll be happy to know that every restaurant at Okemo serves beer. Labatt Blue, Guinness, Miller Lite, Harpoon, and Samuel Adams are available everywhere so you can start your après ski any time. If you want to enjoy a beer, nachos, and live music every Saturday, visit Sitting Bull. Sky Bar has delicious cold beverages too.




Disclosure

Compiled especially for ski -adventure -guide.com, by Mr D, a skier of course.