Ski Bariloche at Catedral,Patagonia,Argentina.



General Feel
An incredible place to ski Bariloche is at the Catedral Resort, Alta Patagonia. The mountain has it all. Catedral is located in the Lake Region of Patagonia just outside the town of Bariloche – the largest city in Patagonia. The town has a very European style that is quite welcoming.

Catedral has a resort village at its base with shops, lodging, first aid, discos, and restaurants. It has everything a skier could need. With a short bus ride to Bariloche, you'll have everything you'll ever want. There is plenty of lodging available from cheap to expensive, from back alleys to million dollar views.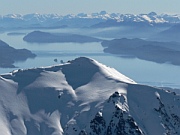 The Lake Region of Patagonia is one of the most scenic places in the world. Giant lakes stretch as far as the eye can see. Glaciers sit amongst the mountains. Thick forests rise from the lakes to tree line. The view stretches into the huge expanse of National Park Nahuel Huapi.

Recent investments have upgraded the resort. Catedral is open year round for various activities like hang gliding and mountain biking. In fact Catedral has even been called the Vail of South America.



Quick Facts Ski Bariloche at Catedral
Average Snowfall: 300+ inches
Acres: 1,500 acres
Runs: 50
Lifts: 15
Vertical: 3,900 ft (1000m)
Elevation: 3,445 ft to 6,725 ft (1050 m to 2050 m)
Terrain;
Beginner – 15%
Intermediate – 60%
Expert – 25%

Tips
When you Ski Bariloche at Catedral, take a day off of the slopes to check out the town and surrounding areas. You may not ever leave. Heli-skiing is available in the area if you are interested.Staying in Bariloche is cheaper and leaves you with more options for eating and nightlife. Plus a cheap bus ride will take you the 20 km to the mountain on regular intervals – every 10 minutes.Check the calendar before you go, Catedral often has fun events going on like ski competitions or special weeks.




Terrain/Off Piste
Catedral is known for its powder and easily accessible backcountry access. The resort is covered in lifts that take you all over the mountain. You can choose from great glade skiing, steep chutes, or wide open bowls. Be sure to ski all over the mountain. La Palmera skirts the boundaries and takes you through the trees. Nubes will take you through technical lines. Leneros is a nice tree run. Carlitos is mogul heaven. La Avalancha is a fast run that will keep you moving. The lift for the true expert skier is La Laguna, which takes you to backcountry bowls and chutes. You may want a guide or a local if you plan on dropping off the backside for a real adventure.




Family Rating
Catedral is great for families. The mountain really has the most terrain for families. There are plenty of beginner runs, but the mountain shines at the intermediate level. Over half the mountain is intermediate, a great way to slide around with the family. There are events with the Kid's Club that include skiing, soccer, volleyball, and other fun activities. It's included with the ski pass. There is also daycare for the very young ones. If you venture to Bariloche, there are lake tours, nature tours, shopping, and much more available for the whole family. Villa Catedral, the base village, is the only one of its kind in South America.


Bars
There are over 10 bars on the mountain. The village has casinos and disco techs. If you stay in Bariloche – South, Pilgrim, and Cerveceria Blest are great bars to go have a beer or glass of fine Argentine wine.




Food
The village offers great restaurants with both regional and European food. Be sure to eat famous Argentine steak while you are there. It's cheap and delicious. El Boliche de Alberto is a must. Also try Punta Bustillo, El Mundo, or Dias De Zapata. All offer top-notch food at affordable prices. Eating on the mountain is a real pleasure because of the scenic views.


Disclosure

We hope your Ski Bariloche Catedral Experience will be an incredible one. Compiled by Mr DL, a skier of course.



From Ski Bariloche Catedral Resort back to adventures on skis page