Ski Chapelco,Argentina


General Feel
When you ski Chapelco you will be visiting one of the highest mountains in its range.You will be surrounded by views of volcanoes and lakes of the National Park of Lanin. The main lake that can be seen from the resort is the beautiful Lake Lacar. Even though Chapelco is off the beaten path for international skiers, it has a reputation as one of the best resorts around, especially for families.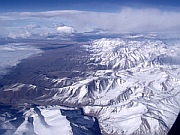 Quick Facts Ski Chapelco
Average Snowfall: 350 inches / 8.9m
Acres: 2642 acres
Runs: 31
Lifts: 12
Vertical: 720 m / 2378 ft
Elevation: 1980 meters / 6463 ft
Terrain
Beginner – 21%
Intermediate – 17%
Expert – 62%
The base area is nice and has the necessary skier amenities, but most people stay in San Martin. The base has a lodge, several restaurants, a yoga spa, ski storage and boot racks, and even a ski rental shop. The town of San Martin has cheap lodging, nice restaurants, good shopping, and even a movie theater with the latest US movies. It is a small, quiet town with plenty of charm and scenic views.


Cerro Chapelco is located in the southwest corner of the Neuquen Province in the Andes' Lake District of Argentina. It is 15 miles out of the small town of San Martin de Los Andes. It is a relatively quiet resort that caters to all ability levels. Chapelco also has a more South American feel than some resorts because most international visitors go to the big resorts like Portillo, Catedral, or Las Lenas.



Tips
Chapelco is not the biggest mountain, but it is well worth the trip to San Martin to ski there for a few days. The terrain offers plenty of skiing and the atmosphere is great. If you're in town during the afternoon, siesta closes everything down. When things are open, you can rent any sort of gear you could need, browse arts and crafts stores, or use the Internet. The best time to ski Chapelco is best in late July to Early August, but lines are not usually a problem .


Terrain/Off Piste The terrain at Chapelco varies from 20 degrees to 45 degrees plus. There are plenty of mellow groomed runs for beginners, but also steep off piste runs for experts. There are huge bowls, cliff bands, forests, terrain parks, race courses, and good backcountry access.

Ski La Pala, a double diamond from the top of the ski area near Cerro Escalonado for steep lines with all sorts of terrain – cliffs, snow fields, trees. On the far side of the mountain, above tree line are steep runs like Del Mocho, Tubo, Norte, Directa, and Del Patrulla, which are all double diamonds and can be accessed from the peak of Cero Teta.

In the forests, moss grows on the trees called Liquenes, or Devil's Beard, which gives an eerie feeling when skiing through the trees. It is unlike anything in North America, be sure to ski some glades to experience it.


Family Rating
Chapelco is a top-notch family resort. The terrain caters to all abilities, but there is a lot of beginner terrain. There is a ski school for kids, daycare, and an adventure theme park. Junior Academy is ski school for ages 6 to 16, Jardin de Nieve is for 3 to 5 year olds, and Guarderia Infantil is daycare for the little ones. The mountain is open year round and families are welcomed in the summer months to hike and bike.


Bars
The on-mountain restaurants serve beers for an après drink, but for the real nightlife San Martin is the place. When you ski Chapelco, you will most likely stay in San Martin. Irish pubs abound, but try Avataras pub, El Meson, Los Notros, Downtown Matias, or Zoo Café for a drink and you'll be impressed. Be sure to dress up from your ski clothes or shorts.


Food
The on-mountain restaurants are top-notch with world-class views of the surrounding national park. In San Martin, there are all kinds of restaurants. You can sit by the lake at La Costa, all you can eat at the El Tenedor, or enjoy seafood at El Meson.






Disclosure

Ski Chapelco in Argentina to get a broader scope for what is out there! Compiled by DL, a skier of course.


From Ski Chapelco Argentina back to ski adventures page.