Skiing Aspen Highlands,USA
General Feel
Skiing Aspen Highlands mountain is reserved for the serious skiers. It is made up of Aspen Power of Four – Ajax, Snowmass, Buttermilk, and Highlands. Aspen Highlands boasts a steep, extreme ski experience, especially if you're willing to work for your turns.


Skiing Magazine voted their skiing Aspen Highlands experience as #5 Best Mountain in 2008.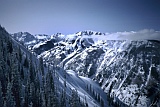 Quick Facts
Average Snowfall: 300 in/ 762 cm
Acres: 1010
Runs: 125
Lifts: 5
Vertical: 3635 ft
Elevation: 11675 ft
Terrain
Beginner – 18%
Intermediate – 30%
Expert – 52%
Piste
Aspen Highlands has it all - steeps, glades, cliffs, powder, bumps, and a few groomers. It is a relatively small resort, with its claim to fame being Highlands Bowl. You take two lifts to get to the highest lift accessible terrain. From the top of this second lift, Loge Peak Lift, the terrain choices are awesome. Deep Temerity will have you begging for more steep bumps. Olympic Bowl will have you drooling through open glades. There are even some great intermediate runs and a Nastar course that is fun.



Highlands Bowl is the real reason to visit Aspen Highlands. Take Loge Peak Lift to the top, then a 45-minute hike will take you up 800 vertical feet to the top of the bowl. From there, you can relax and catch your breath under Tibetan Prayer flags and look West toward the Maroon Bells. Then put your skis or board on your feet and rip the bowl.


The Bowl is huge. It will still have fresh, untouched, champagne powder days after a storm. The steeps seem to go on forever and depending on what aspect you ski depends on the snow conditions. It's almost always good snow. After big storms the Ski Patrol takes awhile to open it up to ensure there is no avalanche danger. Be sure when skiing Aspen Highlands check out Go-Go Gully, a consistent 48-degree pitch down the bowl. The bowl ends at the Deep Temerity lift. Ride it up and you can do it all over again. Hiking the Bowl can be hard if you're not a local or in top-notch shape.
Food
At the end of the day, Highlands Village has what you are looking for. You can stay at the Ritz, get a slice of pizza at Crust, enjoy a glass of wine at Willow Creek, gaze at expensive art the Aspen Gallery, or recharge with a cup of coffee at Kayaks. Skiing Magazine ranks Aspen Highlands #4 on the party scene. Another social scene is in the town of Aspen, where you can find anything you could ever want to do.
Family
Aspen Highlands is great for kids… if they are good skiers. There isn't much beginner terrain. The terrain caters toward advanced skiers and riders looking for a rush, but if you need to bring the kids, thats no problem at all. There is even a kid's telemark program.



If you're heading to Highlands be ready for a wonderful experience. All Aspen resorts offer top services and Highlands offers some of the best terrain around. When you combine it with light Colorado snow, you may think you're in paradise.










Disclosure
Compiled by Mr D, a skier local to the area of course.




From Skiing Aspen Highlands back to adventures on skis page