Skiing Chile , Portillo
General Feel
Skiing Chile,in Portillo is legendary. Everyone that loves skiing has heard of it and any true hardcore ski bum makes a trip to Portillo. Portillo is nestled into the Andes Mountains , only a stone's throw away from the Argentine border. The closest airport is Santiago, which is 2-hours down about 20 switchbacks on the Pan-American Highway. Portillo is isolated. When you arrive there is a giant yellow hotel with rugged mountains rising high on all sides. It is one of the most incredible views ever and looks out across the jaw-dropping Lake of the Incas.

When you are at Skiing Chile -Portillo, there are an equal number of guests and employees, with no day visitors. This ensures that the mountain is never crowded.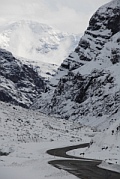 When you are at Skiing Chile - Portillo, there are an equal number of guests and employees, with no day visitors. This ensures that the mountain is never crowded.
Quick Facts
Average Snowfall: 7.5 meters
Acres: 800
Runs: 15
Lifts: 13
Vertical: 2644 ft.
Elevation: 10984 ft/ 3345 m
Terrain;
Beginner – 24%
Intermediate – 33%
Expert – 43%
Piste
Portillo offers some of the steepest, tightest skiing in a resort anywhere.When you are skiing Chile at Portillo, you must have an idea of where you are going because you can get cliffed out or end up in the lake. Portillo is not very big, but if you have backcountry experience, and a desire to explore, it is never ending. The mountain feels like it goes straight up from the hotel whish is set at 9350 feet in the middle of the valley. On the west side, are the famous runs Garganta and the chutes Gargantita 1 and 2, which are steep and right under the lift. Be sure to watch people ski because it's entertaining. There is also a good chance some of your favorite skiers are on the mountain.

Portillo is also the only place in the world that has 4-man Poma lifts. It's a good idea to watch a few people fall before you try to ride one. At the top of the largest 4-man Poma, Roca Jack, on the East side of Portillo, is La Traversia. It is an epic wall with giant avalanche paths, technical lines, and big vertical. Heli skiing is available, but sign up the day you get there to reserve a spot. If you are willing to hike, views of Aconcagua, South America's highest peak are easy to find.
Be mindful Andean storms bring lots of snow, meaning several meters over several days. Nonstop. When it snows the mountain closes and you are confined to the hotel because of avalanche danger and limited visibility. Be sure to bring something to keep yourself busy.
Food
Portillo is completely self-contained. When you pay for a week at Portillo, this includes a bed, 4 meals a day, and a ski pass. Drinks are not included. No supermarkets here!
There are several restaurants including Tio Bobs on the mountain, the cafeteria, and the main dining hall. There is a pool, lounge, and bar.
Family
Portillo has a wonderful kid's program including a popular kid's ski school, day care, and other various activities.

The ski school attracts the world's best ski pros and lessons are not very expensive compared to North American resorts.
Portillo is an experience that every ski bum should have and will make all your friends jealous. Do be aware of earthquakes and avalanche terrain. The best time to head to Chile is in August and September if you want the best powder. If there isn't powder, you'll have the best corn snow in the world.


From Skiing Chile Portillo, back to adventures on skis page.
Disclaimer
This article was submitted by a serious skier, Mr D based in USA.