Skiing Kicking Horse, Golden, BC, Canada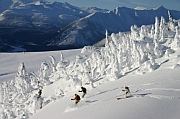 General Feel
Skiing Kicking Horse is a remote experience. Located in Golden, BC, it is a 3-hour drive to Calgary, the nearest major airport. Kicking Horse is renowned for its extreme terrain. Kicking Horse is nuts. Hands down, every real skier needs to go here at least once.


Quick Facts
Average Snowfall: 725 cm
Acres: 2750
Runs: 106
Lifts: 5
Vertical: 4133 ft.
Elevation: 8033 ft.
Terrain;
Beginner – 20%
Intermediate – 20%
Expert – 60%
Golden, British Columbia is a small town with a big mountain. Six national parks surround Golden's Dogtooth Mountains. They are all prime heli-skiing terrain and as far as you can see there are lines that you'll be itching to go ski. Kicking Horse is an up and coming resort and is quite young compared to other resorts, but it has already earned a reputation with big mountain skiers.


Piste
The 8-passenger Omega III Gondola takes skiers from the base to Eagles Eye Restaurant at 7,700 feet. The view from here is worth mentioning because it is unbelievable. From Eagles Eye, the mountain is yours to rip. There are 3 ridges that lead back to the base. On those ridges are 70 of the 106 named trails, all steep chutes that can scare even the best skiers.

Eagles Eye is at the top of CPR Ridge and has chutes 49 to 64 degrees. All the chutes are named, but it is easier to refer to their numbers. To the North is Redemption Ridge, a ride up the Stairway to Heaven chair and the ridge will take you to chutes 65 to 106. To the South of Eagles Eye is Terminator Peak. A short hike will have you in some of the craziest inbounds terrain anywhere. The mountain is every ski bum's dream. And the snow is absolutely nothing to complain about either. As you are skiing kicking horse, lower on the mountain, you will find beginner and intermediate runs that are groomed, much to the dismay of the serious skiers.




Family Tips
Kicking Horse Resort's family scene is currently not the best. But the Horse Play Corral has been set aside as a slow skiing/learning family zone. There is plenty of terrain for cruisers and beginners, but that's not why people come to Kicking Horse. Kicking Horse also has a skating rink and tubing park located in the village.




Food
The social scene is decent. The village offers some good restaurants and bars. Check out the Local Hero, Sushi Kuma, Whitetooth Grill, Horse Thief Café, or the Kicking Horse Grill. If you stay in cheaper Golden, about 10 minutes away, transportation to the mountain is easy to find and there are more places to choose from.




Bars
You might want to grab a brew with a bunch of guys at Golden Taps or Packers. The nightclub scene is nearly nonexistent.

When it comes down to it, it might just be worth going to bed early so you can catch the first chair and ski hard the next day.Skiing Kicking Horse is hardcore. You may not want to leave and we understand why.


Disclaimer
This article was submitted by a serious skier, Mr D based in USA.

From Skiing Kicking Horse back to adventures on skis.