Skiing Lake Tahoe
General Feel.
Skiing Lake Tahoe and it's surroundings, prepared us for extinguished volcanic crater's mounds, scattered around the Lake, offering six ski destinations .Yep, this place was once a prehistoric volcanic crater. All of the ski destinations are sprinkled around the lake, within 90 min drive from the southern Tahoe City . This region offers a good variety of skiable terrain. Our journey started at Heavenly, skiing both the Californian and the Nevada boundry, then slowly continuing through to Squaw Valley.







From seeing serenely nestled log homes overlooking Lake Tahoe, through to numerous motel accommodation our stay has left us with lasting impressions. Skiing Lake Tahoe has the added bonus of being able to experience the casino nightlife simply by walking across the stateline, sure it ain't Vegas but at least you get the taste of it.



The atmosphere of the two main resorts, Heavenly and Squaw Valley is a cross between a little country town riddled with motels, block architecture, acquiring a twist of the alpine resort feel.

What is great about this part of the world is the variability of all skiable areas. Exposed large bowls, tree covered , beginners through to advanced runs await you. There are six reasonably large ski areas, and then for the fussy skier who wants to explore even more there are smaller ski parks to chose from. The platter is here for you to enjoy.

What is atypical when skiing Lake Tahoe in comparison to other mountains is that access roads from one ski destination to another. They are not overtly serpentine and tortuous. They are pretty easy to drive on.
Tips.
Take half a day of a break and venture for a hike to the Emerald bay. The Bay sits on Lake Tahoe about 15 min drive out of Heavenly when heading towards Squaw Valley. By the bay you will find a locked up estate bearing Scandinavian architecture. Entrance foyer walls designed out of logs resembling railway sleepers. The foyer is a part of horse barn leading up to the house. The set up is enchanting and mysterious, offering calmness of the lake to tantalize the senses.

Chill out and catch few rays at the skating rink at Squaw Valley.


If you want to engage in Cross-Country Skiing Lake Tahoe style, I am told the main take off point is at the Northern side of Tahoe, with over 60km (38mil) of cross-country trails awaiting you. There are other cross-country trails available at most of the six mountains.




If you want to cover all of the destinations whilst Skiing Lake Tahoe, the itinery we recommend is :



Spend most of your time skiing Squaw and Heavenly, and a day skiing the remaining 4 destinations.( 35% of the stay at Squaw, 35% Heavenly,25% other 4 destinations listed)


Out of the remaining four ski destinations if time permits spend an extra day at Kirkwood.


It takes about 1.5-2 hours to circum-navigate the Lake by car, so give yourself some time if you want to be up by ski lifts at 9.00am.( ie if you're based at Heavenly, depart at 7.40am if you want to be at Alpine Meadows by 9.00am)


Keep your base at Heavenly, if you want to max out your apre-ski experience, after skiing Lake Tahoe.
Off/ Piste.
Heavenly.
This destination is truly by the lake, and offers beautiful lake panoramas. If you want to get the feeling that you are suspended above a lake, skiing in the clouds, check this place out. Heavenly's original claim to fame is not only it's position but also it's vertical drop of 1065m ( 3500ft).Whether you are skiing Lake Tahoe the first time, or you are a regular, that Birdseye view brings you closer to heaven than ever before, what an appropriate name.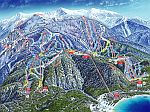 What had us standing in amazement was the freak of nature layout of the land scape. We have not seen this anywhere around the world. One side of the mountain you have snow covered slopes overlooking Lake Tahoe, whereas the other side looking towards Nevada state you have barren, salt-pepper dry desert. Fresh powder one side, desert on the other. If you like contrasts this terrain will not disappoint.. To see these contrasts, take the lift to Milky Way bowl or Mott Canyon.




Best skiing for us was in the vicinity of the East Peak Lodge, half way up the mountain, as well as under Tamarack and Gunbarrel Lifts heading towards the Califonian Lodge. For those of you who enjoy moguls, try the famous runs under the Dipper Lifts, they resemble a sea of VW-beatles, mounds everywhere.
Squaw Valley.
Offers good variability of terrain, from exposed bowls at the top of the mountain to tree lined runs midway to the bottom. You can experience steep drop offs for advanced skiing, and few wide runs for those goofy turns. The geological layout of the mountain range is appealing to the eye. It is not too difficult to veer away from the main stream traffic and ski on uncrowded runs.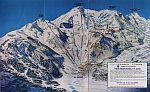 We enjoyed what runs this place had to offer, and whilst you are not – skiing lake tahoe, this place is worth the drive. If you are an avid skier visiting this part of the world, it is your obligation to be here. Squaw hosted Olympics, so it's runs are world class. The position is great , the village is still growing, trying to find it's ambiance and soul. It is a great spot to do more with, on every level. Next time we come to the regions of Lake Tahoe we will definitely check Squaw out.

The beginners runs are found at the top of the mountain, and I assure you are very gentle, and an excellent starting point for your ski adventure with very nice views.



Alpine Meadows.
Is a good destination for day worth of skiing. You can explore both sides of the mountain which offers large bowls with intermediate to advanced skiing. Beyond the boundary terrain is smaller than some of it's neighboring resorts, but a couple steep drop-offs may get your heart rate pumping.The longest run is 3mil (5km).
Sierra and Kirkwood.
You will encounter these two ski destinations as you enter the Lake Tahoe district driving from Sacramento. Kirkwood is a growing resort.


At Kirkwood check out the runs under the Wagon Wheel Chair lift, and then Elevation Shaft Chair lift area. This way you will get a good perspective for the whole skiable terrain of Kirkwood. Besides Heavenly and Squaw, Kirkwood offers best altitude and the biggest size of skiable terrain.


The place is big enough to offer a variety of skiing from open bowls to cliff drop offs and gentler runs along the tree line. There are enough runs here to keep you amused for solid two days. Among international travelers we felt Kirkwood ought to receive a higher standing, and is probably a little gem that has been missed too often. If you want to land the best powder whilst skiing Lake Tahoe, historically this place delivers. Kirkwood is very popular with the locals.


Sierra is a great destination to ski if you want to be shielded from bad weather. Almost all the trails are covered in trees. This is an excellent spot for young families where the little ones are polishing up their confidence.



North Star. This destination offers some beginners skiing with some black runs, and is increasing it's innovation with designing adventure parks for kids. You will cover the skiable terrain in one day. There is an increasing extent of snowmaking, which caters for the marginal seasons quite well. We think North Star tries to position itself as a beginners park providing superior facilities for kids.
Mountain Stats for Skiing Lake Tahoe

| | | | |
| --- | --- | --- | --- |
| Resort | Skiable Area (acres) | Highest Alt (feet,m) | Annual Snow Fall (feet) |
| Heavenly | 4800 | 10040,3060 | 450 |
| Squaw Valley | 4000 | 9080,2760 | 450 |
| Kirkwood | 4000 | 9800,2985 | 550 |
| North Star | 2400 | 8610,2625 | 350 |
| Alpine Meadows | 2400 | 8637,2630 | 402 |
| Sierra at Tahoe | 2000 | 8852 | 480 |
Family Rating for Skiing Lake Tahoe **





Getting there. One alternative, if you are coming from abroad, fly to San Francisco, them self drive towards Sacramento, veer east to Carson city before reaching Lake Tahoe .The transit time from the air port to Lake Tahoe is approximately 4 hours.


Proximity to slopes. Unless you know someone with a little cabin close to the smaller ski fields, we recommend stay based at Heavenly as there are few things to keep your little ones amused. Kirkwood entices little skiers by offering a magic carpet ride.


Creche. Alpine Meadows offers indoor jungle gyms for little kids. All of the ski destinations we described offer child minding from 2 years up. North Star prides itself on the Polaris Adventure Park for kids


Cafes. We have seen any children's purpose build cafes, but it ought to be said a lot of motels have a relaxed family friendly atmosphere.


Ski Hire. These places are scaterred around Heavenly and around Tahoe Nordic Centre.On top of this each of the six mountains offers it's own ski hire.
Food.
Biggest choice of restaurants and cafes is at the Heavenly, so if you want some evening action stay here. Best value for money quality meals that we found was at the casino "Ceasar Buffet." If you are a big eater treat yourself. Otherwise each of the six mountains has something to offer.



On the Northern side of the lake consider dinners around The Nodric Centre. They offered good food, but we had to book in advance.



Bars.
Casinos offer bars, try them they are good but you have the hype associated with casinos, so adjust your expectations.


Enjoy skiing Lake Tahoe and it's mountain ranges. We have only covered six areas, but there are few more smaller ski destinations here as well.


If you want to visit another useful link about skiing lake tahoe,with some focus on other activities and accomodation visit these pages.