Snowbird Utah Account
General Feel



Snowbird Utah is awesome. It is often combined with Alta in rankings because the two are so close in proximity. In fact you can ski from Alta to Snowbird. Soon there will be a lift connecting the two.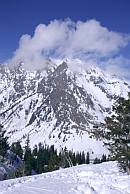 Let's start with Snowbird's ratings in Skiing Magazine's Reader's Choice Awards… Snowbird ranks #3 Overall, #4 Best steeps, #1 Powder, and #5 Backcountry. Pretty impressive. Snowbird is located just outside of Salt Lake City, up the Little Cottonwood Canyon – the same as Alta. The biggest difference between the two is that Snowbird allows snowboarders. This resort has everything you could ever want.



Quick Facts
Season: Mid November to April
Average Snowfall: 500 in/ 12.7m
Acres: 2,500 acres
Runs: 89+
Lifts: 12
Vertical: 3,240 ft / 987m
Elevation: Base – 7.760 ft / Summit – 11,000 ft.
Longest Run – 1.0 miles/1.6 km
Terrain;
Beginner – 27%
Intermediate – 38%
Expert – 35%
Tips
Snowbird Utah has a long season and is often open until mid-June.
Not too crowded.
You can land in Salt Lake, travel 29 miles, and be skiing in the afternoon.
No pets are allowed in the canyon or at Snowbird.
There is a terrain park and a Super Pipe.
Terrain/Off Piste
Located below Alta in the Little Cottonwood Canyon, Snowbird is situated in an ideal location. It is blocked from wind, enjoys deep snow due to the Great Salt Lake's lake effect, and is in close range to a major city – Salt Lake City. Alta and Snowbird literally share the same ski area boundary line over Mount Baldy, so it is easy to ski between the two if you desire.

When you're skiing Snowbird Utah, backcountry access is easy because you can leave the resort anywhere you want, but if you like the security of the gates… there are 4 of them. Just out of bounds and with easy access are Scotty's Bowl down the valley or Mineral Basin's Sugar Cliffs. But with any backcountry situation, don't go if you're knowledgeable about avalanches or you don't have a buddy or two and the proper equipment.

If you're cruising around inbounds and want a challenge, try Gad Chutes, Barry Barry, Thunder Bowl, Peruvian Gulch, Dalton's Drawl – and that's just the front side. From the top of the tram at Hidden Peak, slide into Mineral Basin and try Livin' The Dream, High Stakes, or Bookends.



Family Rating
Snowbird is a great family resort. While most people go to Snowbird to ski expert terrain, Snowbird also caters to the families. In fact kids under age six ski for free. There is a certified childcare center for little ones who don't ski. If you're kids are still learning, Snowbird has a fantastic children's ski school program.

Photographers are located around the hill so you can capture that Kodak family moment. Snowbird offers scenic snowmobiling, ice-skating, avalanche training, aerial tram rides, a tubing hill, and even a video game plaza. Snowbird is a great destination for families. The terrain offers everything a family could want.



Bars
Snowbird has more of a base area than Alta, and therefore has more of a nightlife scene, but not by much. Try grabbing a brew at Aerie or a margarita at Key Hole, or brink beer and play pool at the Tram Club, or enjoy the views over a glass of wine at the Wildflower Lounger. Most people get a good night's sleep so that they can ski hard again tomorrow.
Food
There are four high-end lodges in Snowbird Utah, including the famous Cliff Lodge and the Lodge at Snowbird. If you're traveling on a budget, try hotels at the bottom of the Little Cottonwood Canyon. All hotels have delicious restaurants for all tastes Try the buffet at The Atrium, sirloin at the Steak Pit, Mexican at El Chanate, grab a snack on-mountain at the Mid-Gad Restaurant, a slice of pizza at Pier 49 Sourdough Pizza, or an espresso at Baked and Brewed. There are plenty of choices.



Disclosure

Compiled for us by Mr DL, a skier of course.


From Skiing Snowbird Utah back to adventures on skis page