Steamboat Co , Colorado, USA
General Feel
Steamboat Co is an idyllic mountain and charming town. It is located in North Central Colorado – about four hours from Denver… far enough from big city life to be considered a destination resort. Steamboat's claim to fame is its deep, light, dry snow. It's on a different storm track than most resorts and receives more snow because of it.



Steamboat is a ranching community that has grown into a ski resort town. It is home of the Colorado Mountain College, more Olympians than any other town, and home of a strong Western tradition. Its self-proclaimed nickname is Ski Town, U.S.A.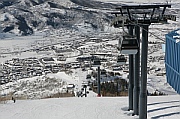 Steamboat is a world-class resort. Skiing Magazine's Reader's Choice awards ranked Steamboat #9 Overall and #1 Trees.



Steamboat Co Quick Facts
Season: November to April
Average Snowfall: 360 inches /9.1m
Acres: 2,965 acres
Snowmaking: 375 acres
Runs: 165
Longest Run: Why Not - 3+ miles/ 4.8km
Lifts: 21
Lift Capacity: 33,619 skiers per hour
Vertical: 3,668 ft./1118m
Elevation: Base – 6,900 ft=2103m / Summit 10,568 ft=3221m
Terrain
Beginner – 14%
Intermediate – 42%
Expert – 44%
Tips
Don't ski close to trees. The tree wells are dangerously deep.
Recently bought by ski giant Intrawest. Look for tickets that include other Intrawest resorts: Whistler, Copper, and Winter Park.
Look for Olympian Billy Kidd skiing around in his famous hat.
Snowboarding is big.
Town is cheaper, but slope side accommodations may be more fun.
February is the best time to go because the base is solid and the snow usually falls.
When skiing trees, look in the space between the trees, not at the trees. You're more likely to go where you are looking.
Terrain/Off Piste
Claiming to have the best champagne powder in Colorado, Steamboat is truly awesome. It may have the best tree skiing around too. Steamboat Co. is all below tree line, so the whole mountain is a tree skiing paradise.



The deep snow and trees can be dangerous though, as Steamboat has had several skiers die in tree wells in the past several years – be careful. If you're a tree skiing fanatic, head straight to the trees under the Sundown Express or the Priest Creek Chairs. The chutes near Morningside on the backside are awesome and have beautiful powder pillows. One of the best tree runs is Closet.



The terrain on Mt. Werner is fantastic. Be sure to ski Christmas Tree Bowl, North St. Pats, East Face, and Shadows. The whole mountain is great and there is tons of terrain for all abilities.



The on-mountain backcountry access isn't great. But Buffalo Pass, Rabbit Ears Pass, and North Routt all offer good backcountry access and are only a short drive from Steamboat.


Family Rating
Steamboat Co. is a wonderful place to take the family. The charming town offers plenty of family activities. Recent mountain investments have improved the base area, on-mountain restaurants, beginner terrain, and much more.



Nursery, childcare, and ski school are available for children of all ages. The kid's programs are recognized nationally as being top-notch. Steamboat even offers five kids-only lifts and a beginner's area called Rough Rider Basin.



If you don't want to ski try snowshoeing, snowmobiling, fly fishing, horse rides, live music, hot air balloons, indoor climbing gym, tour the hot springs, tennis, tubing, sleigh rides, ice skating, shopping, or museums.
Bars
There are over 75 restaurants and bars in the area, so there are plenty of choices to choose from. Bars include lounges, dive bars, discos, and your typical bars. Café Diva is a wine bar. Levelz is a great nightclub. Slopeside offers beer and stays open late. The Tap House is a great place to watch a game. Tugboat is good for an après beer.



Food
Steamboat Co. has plenty of restaurants to choose from. Old Town claims to have the "best burger in the 'Boat." Tugboat is near the slopes. Cottonwood Grill has a great atmosphere. Riggio's offers a fine dining experience. BK Corral is kid friendly. Bear River Grill offers indoor and outdoor dining. Chocolate Soup Pastry Café serves a great, quick breakfast.




Disclosure

Compiled exclusively for us by Mr D, a skier of course.


From Skiing Steamboat Co back to adventures on skis page