Our Whistler Experience.
General Feel.
Our Whistler experience has been awesome, not only as far as the town vibe is concerned but also the powder. Getting around 6 meters (20feet) of snow is not unusual, and less than four is a bad season. Wow… man, I have skied on much less than that, in fact about 50cm or 2 feet of snow. The village has a very nice feel with complimentary architecture being maintained throughout in an alpine type of atmosphere. Use of timber, logs, stone is well utilized. The Whistler resort is a duet made of the Blackcombe Mountain and the Whistler Mountain. Both mountains deliver an awesome ski experience.


Tips.
Line up for the gondola ride to the top of both mountains before 9 am. The locals told us it is best to purchase the lift tickets on the day before. This way you will not have to line up for tickets as well. If you have friends living in Vancouver it is possible to obtain even before the season commences at most local kiosks.



If you feel like using the big Rendezvous Restaurant / Bar on top of Blackcombe, or the Roundhouse Lodge on top of Whistler, try to have early lunch at i.e. 11.30 or later period of 2.30pm. This way you have a higher probability of getting a seat.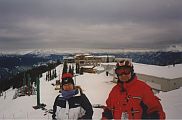 If you like to chill out in a small hut, which serves hot food, go to the ChickPea. This hut is one-third way down the Whistler Mountain. It is a really cool spot, beautiful views, usually relaxing lounge music. Most seats here are provided outside.



If you want to broaden your Whistler experience, and have some 2-3 days left to spare, visit three little resorts neighboring Vancouver.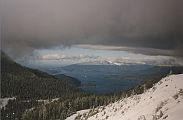 Grouse Mountain – cool spot where you can take in the views of Vancouver whilst skiing, and ski at night as well. A large Gondola takes you there from a base car park.


Cypress Mountain.- skiing here helps you see the British Columbia's coastline with abundant archipelagos, peninsulas, essentially appearing like Fjords. If you only have a spare day up your sleeve come to this spot.


Mt Seymor- a small resort reserved primarily for children. If you travel with your family check this ski spot out.
Off Piste.
Whistler Mountain has a good warm up run all the way at the " Whistler Peak". To get to the peak you will need to catch a chair lift, then ski to your right onto the Symphony Bowl. This gentle trail runs around the mountain. As you slowly descend onto the Symphony Run stop to view the famous "Tusk". The Tusk is another mountain's peak visible in the distance, resembling a sharpened pencil, towering out of the mountain range. On a good clear day this is quite nice scenery.
Whistler Blackcombe Trail Map.
Post warm up progress to Emerald or Big Red, which are intermediate runs on either side of the Whistler mountain. Alternatively if you want to check out moguls go to the Whistler Bowl.








When experiencing the runs of the Whistler Mountain do not forget to descend down to the Creekside Base. This area is quite removed from the Whistler Village. It is a new expanding part of the mother village of Whistler. New lodges and condos have been built here within 5 years, and slowly a new atmosphere is arising.



Approaching Creekside is a sweet experience for those who have the need for speed. There is an awesome downhill run here, and it starts half way up the mountain. The run is somewhat hidden in the tree line at the top, so ask locals to show you the way. The vertical it provides is adrenaline pumping. Have your downhill skis on for this one! Downhill ski championships are held here.




Further past the Creekside Base, traversing across the mountain, you will enter unfolding black runs terrain, which will put your quads to the test. If this does not "max out" your Whistler Experience, I do not know what will.



Blackcombe Mountain offers lots of variety as well. You will get moguls, close to the Crystal Hut, glacier runs at the very top, wide groomed runs and half pipes. This mountain just like it's brother, cater well for beginners through to advanced skiers. The Horstman Hut is the point where the barren glacierized terrain is, and lower down you will find more sheltered skiing.



Our Whistler Experiences on both mountains were awesome. Throughout the day we tried to stay away from mountain bases, and never had problems with excessive queues.



Both Mountains offer excellent variety of tree sheltered skiing, through to barren Glacial Skiing. There are enough steep drop offs to keep you amused for weeks, and likewise plenty of beginner's runs. Both are good mountains to progress from a beginner status through to advanced. The trails will keep you interested for weeks. I think it is impossible to intricately know all the runs in 2 weeks. And when you have gotten to know the mountain, you then have all the beyond the boundary skiing, helisking and some cross country skiing left to do.




If Heliskiing an area the size of medium to large sized town will enhance your Whistler Experience I found these guys, I have not personally put them to the test but their pages appear enticing.

Whistler Heliskiing Experience.

The mountain adventure centers are positioned at the base of each mountain, as well as half way up both mountains.




Family Rating. Whistler Experience ***1/2



Getting here. Fly to Vancouver, then catch a shuttle bus to Whistler. Enquire at the airport. Self-drive option is available. It will take you less than 2 hours to reach the Whistler Village. Parking is provided at the Chalets.




Proximity to slopes. Staying at the base of Blackcomb, around Benchlands allows easier access to beginners trails. For your troopers to have fun skiing, you don't have to take the lift half way up the mountain. I would recommend this area to families with kids below 5-6 years of age.
Alternatively you can travel one third up the mountain to the kids Adventure Park, to the right of the Solar Coaster Lift. The Whistler Mountain offers similar options at the end of the Fitzsimmons Lift, which is also up the mountain.





Creche. Facilities are available for children six months onwards.
Cafes for kids.Try the Base of the Blackcomb. We have not seen any cafes which were designed with kids in mind.
Ski equipment.Two main ski rental spots are at the base of each mountain.
Food.
A variety of cuisine is available, from take away though to sit down table service. Book the more up class places in advance, as they can get busy. You will get a reasonable good value meal. Finding a family friendly restaurant can be tricky. Our best recommendation for families is stay at home and order pre-packaged meals from the local supermarket. The local IGA supermarket is vary well equipped.



Bars.
To get to know few who work at the resort go to the Merlin's Bar, which is at Blackcomb Base. Another hangout is at the Crabshack. The bars throughout the resort offer good food and atmosphere.






We hope your Whistler Experience will be as exciting as our was. We would like to come back here soon.