Whitefish Montana, Big Mountain Resort, USA


General Feel.
The Whitefish Montana resort is located in northwest of the state, the resort is only 8 miles (12.8km) from downtown

Whitefish, and about 20 miles (32km) from Kalispell, Montana. It's the second largest ski area in the state, after Big Sky. The ski mountain used to be called Big Mountain resort. The closest airport to Whitefish is Glacier Park International Airport.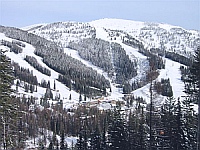 Quick Facts
Season: Early December to Early April
Ticket Price: $61 for Full Day Adult
Night Skiing: Yes, Holidays and Every Friday and Saturday
Average Snowfall: 300 inches
Acres: 3,000 acres
Runs: 94 plus bowls and trees
Longest Trail: 3.3 miles/ 5.28km Hellfire
Lifts: 12
Vertical Drop: 2,353 ft / 717m
Elevation: Base – 4,464 ft-1360m / Summit – 6,817 ft-2077m
Terrain Park: 1
Terrain
Beginner – 20%
Intermediate – 50%
Expert – 30%
Whitefish has been open since 1947, but has never really been boosted to name brand status like some other resorts. It's a true hidden gem in the Flathead National Forest. But it is quickly gaining fame – Ski Magazine (US) voted it #26 in the Best Resort Poll.








Tips.
Night skiing is offered during holiday seasons and every Friday and Saturday. It's frigid so dress warmly.
Whitefish has some amazing backcountry access, but be careful – over the years several lives have been claimed in avalanches just outside the ski area boundaries.
Whitefish Montana Mountain Resort Ambassadors offer free mountain tours everyday.
A free bus runs between Whitefish Mountain Resort and downtown Whitefish everyday.
Off Piste.
Your Whitefish Montana Mountain can be broken up into three sections, as it is on the trail map – Front Side, North Side, and Hellroaring.



The Front Side is sweet for all abilities. It has terrain for the whole family. The Big Mountain Express Chair takes you to the summit. If you really want to get after the skiing take a warm up run on the North Bowl Face – it's sweet. Then check out the double diamond runs Don's Descent, First Creek, NBC, Eran's Heaven, or East Rim to get your heart pumping. They all sit to the skier's left of the summit and can get pretty hairy.



The North Side has some good skiing too. It is the backside of the mountain and can be accessed from the Big Mountain Express Chair. There are some awesome gladed runs called Stumptown and Window Pane and some steeper bumps runs. The snow tends to stay good on the North Side.



Hellroaring is a sweet name for an amazing skiing arena. This is also accessible from the Big Mountain Express Chair. It has steeps, cliffs, glades, chutes, and a long intermediate run out. The hardest run is Picture Chutes and it will keep you coming back for more. The snow is incredible on the Back 9, Teepee, and the wide-open Gray's Gold Course.



Whitefish Montana has awesome terrain for anyone that likes to go out and get after it. This is the type of place you come to once and you'll keep coming back for more.
Family Rating.
Whitefish is a superb family destination because there is plenty to do on the mountain and around the area. The ski hill is kid friendly. There is a top-notch ski school and day care, if you want to leave the kids and go ski around on your own. If you want to have some good old family time, besides skiing, you can go on wildlife spotting trips in the world renowned Glacier National Park, take a dog sled adventure, or tour the Flathead National Forest on snowmobile.



Staying at Whitefish Montana is a blast, but if you want the feel of a really cool town, be sure to make your lodging reservations in the town of Whitefish.
Food and Restaurants.
There are lots of delicious places to eat at Whitefish. On the mountain you can listen to live music and enjoy a meal at the Bierstube. If you're dining with the kid's check out Ed & Mully's or MacKenzie River Pizza. Big Drift will start your day off right with a tasty breakfast and a hot cup of coffee and give you the energy to slay the mountain. If you need something to bribe the kids with or put in your jacket pocket so you won't have to stop for lunch, try Aunt B's for sweets and wraps. When you need a break on the hill, sit back, meet up with friends, and enjoy the views of Whitefish and the nearby Glacier National Park at the Summit House Restaurant.



Bars.
One of the best parts of the ski day is the après ski beer. The best selection is at the Hellroaring Saloon, plus the on mountain views aren't bad either. Or if you want to spice it up, Café Kandahar has an award winning wine list with over 350 wines. If you want to get really rowdy, visit the Bulldog Saloon on Central Avenue for true locals and tasty drinks.



Disclosure

Compiled for us by Mr DL, a skier of course.


From Whitefish MontanaAdventure back to our adventures on skis page.