Skiing Zakopane Poland


General Feel.

Zakopane is a beautiful alpine town offering colorful local folklore. The town has it's roots dating back to the17th century, as such a lot of the chalets have an old charming rustic feel to them. Parts of this region are not accessible by car as they lie within the national park boundary, so travelling to the more remote areas is usually best done in a horse sleigh ( or a shuttle bus if you must).


This ski resort has one big town, Zakopane, as the skier's hub, but scattered lifts and ski parks. There are a few dozen lifts found here, each servicing different slopes.
The skiable terrain is varied, offering good runs for beginners through to advanced skiers. The scenery is awesome, and the region is sitting quietly awaiting to be discovered. The skiable slopes will keep you busy for about a week.
Now if you enjoy good food, like us, at affordable prices, Zakopane may blow you away. Good meals from 10 zloty(US$3.00). We are not talking about little snacks, but proper meals.
Have a blast at Zakopane on a budget!
Tips.
Study the ski maps when you get here as the skiable regions are segmented. You can either walk to some, or be driven to others. Check with the bureau of tourism in the town center.
Different lifts require separate passes, and each pass allows one run.
The angle we figured out, on the ski ticket arrangement was as follows: tickets for all Zakopane ski regions excluding Kasprowy Wierch can be purchased at the ski lift itself. They are around 6 zloty per run. Whereas Kasprowy Wierch sells the ticket at the bureau of tourism ( in the heart of Zakopane at a cost of 60 zloty per run). Pre book this ticket at least one day in advance. Our recommendation is to get a couple of tickets for Kasprowy before you leave Zakopane. There is a big demand for exploration of this peak, and getting your ticket at Kuznice is impossible.


Kasprowy Wierch's access, is a small journey in itself. You have to catch a pre booked shuttle at a cost of 4 zloty. You will then travel about 4 km to the lift off point of Kuznice. Kuznice is a little village where you can chill out, eat some food, and soak up the scenery. From this point onwards you will venture into the National Park, hence traffic access is limited. This may not be the best spot for little children.
Off Piste.
Gubalowka. Together with Kasprowy Wierch our favorite ski spot. The runs are of moderate grade carved well through Spruce Forests. Most of your skiing is done in well-sheltered surroundings. You will enjoy beautiful scenery looking down towards Zakopane, which is at the base of the mountain. Skiing this run will give you a nice feel for what the region is all about. You can view all of Zakopane, nestled in the Tatry Ranges.



The run is less than 1km long, so if you need to spice up your day just cross over to adjacent ski runs.


Skocznia. This is the ski jumper's place, which you guessed has the world ski jump.


Szymanowka. Reasonably short two runs reserved for beginners. It is a very good spot for little troopers.The length is equivalent to Gubalowka.


Nosal. This run is best known for it's steepest drop offs. Excellent for adrenaline junkies. The trails offer some slalom skiing, and are not very crowded as they are predominantly enjoyed by intermediate to advanced skiers. The vertical at Nosal is 600m.



Some beginner's draglifts are available at Nosal servicing the base of the mountain, approximately 200m.


Kasprowy Wierch. This is the biggest ski area of Zakopane. It offers huge bowls, steep, granite ridges, and funneled runs with exposed barren ski terrain. The access is by a shuttle bus to Kuznice, followed by two gondolas taking you to the peak, Kasprowy Wierch.



Your journey down from Kasprowy Wierch is via two areas; the Gosienicowy Kociol, and Goryczkowa.



The Goryczkowa Kociol is easier to navigate through, as you have a general feel where you are skiing down to. It is also has a steeper descend. The entire run is 5 km (3.2 mil).



The Gosienicowa Run , on the other hand requires some navigation, as you ski behind Mountain Mastiffs, at the rear of the mountain range. It shares a greater degree of difficulty, and can be a challenging only from the point of view of navigation. If you are more confident with orientation, then this is an excellent run for you. Terrain for more advanced skiers. Part of this trail has to be walked over a flat plateau (Krolewna Rownien Plateau).


If the weather is not on your side exercise caution when skiing this side, as skiers have been known to get lost. If your bearings are correct, at the end of your journey you will end up at Kuznice. The entire run on this side is 9.7 km (6 mil) long.



Skiing down from Kasprowy Wierch, being Zakopane's pride, is a nice trip. Just bare in mind you will ski down the entire mountain. The vertical rise of this mountain is about 1km (0.6mil).



If you want to stay on the mountaintop , there are two chair lifts servicing Goryczkowa, and Gosienicowa Kociol. You can have good fun up the top without visiting the base village of Kuznice.



As you arrive at Kasprowy Wierch , you are at Poland's boundary with Slovakia on the other side. The altitude of Kasprowy Wierch is 1987m, the views of theTatra Mountain Ranges are awesome.
Family Rating for Skiing Zakopane Poland.
*1/2
Getting Here. Fly to Crakow (Krakow) in Poland .Then self drive a rental to Zakopane.


Kids Lifts Small t-bar draglifts are available, not purpose built for kids. The way this place grew is that there are dozens of little chair or draglifts scattered everywhere. If you want to treat your kids to short runs there are quite few of them to choose from.


Creche We have not located the Crèche facilities. We would recommend to ask the chalet owner.


Cafes Dispersed throughout Zakopane, you can find one within a stone throw away.


Proximity to Lifts If you stay in central Zakopane you are very close to 70% of the runs. The gentlest one for children is Szymanuwka.


Equipment Hire Available only in the town center. Before you venture out to any slope get your snow equipment.



Food
You can eat well here, just about anywhere you go. As we mentioned previously the prices to most ski buffs are very affordable. They are in fact a dream come true for most ski drifters living on a budget.

Meals start from about 10zloty (US3.00) though to three course dinners, with gold plated cutlery, and entertainment in the background for 30-40 zloty (US10.00-18.00). When it comes to food , you have a good feed coming your way.


Accomodation.
If you don't mind lodges with shared facilities, you will pay as little as US $12 per person, per night. This is not a misprint, twelve bucks guys, and that's it! You will get your room, which is often twin share, with a communal kitchen and bathroom. They are pretty decent.

You can find facilities at the other part of the spectrum as well.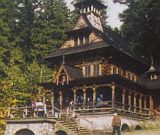 An old Chalet such as this can be found in Zakopane.Each log and beam handcrafted to perfection!



Bars
Check out the old rustic shepard's huts, which have of course been done up, such as Zbujecka. Have some Vodka whilst you are here, as the selection will surprise you. (official local drinking age 18+)
Enjoy skiing Zakopane, as it will be one of your cheapest ski holidays around, filled with colorful folklore and sweet scenery.


From skiing Zakopane back to Europe.